INFOCOM, an initiative from the house of ABP was started in 2002 as a forum that would demonstrate India's quest to be the IT superpower, and has today turned into a forceful and dynamic event that sets the pace for development in the Information and Communication Technology (ICT) sector, bringing potential partners together and helping the industry connect with associates and customers. INFOCOM today is one of the largest congregations of ICT professionals, buyers-sellers, corporate leaders, academics, visionaries, and policymakers in India.
www.abp.in
Founded in 1922, the ABP Group is one of the foremost media conglomerates in India having 11 premier publications, three 24-hour national TV news channels, a leading book publishing business as well as various mobile and internet properties. ABP's portfolio covers a gamut of genres and encompasses premium brands like — Anandabazar Patrika, The Telegraph, Fortune India, Ebela, ABP News, ABP Ananda, ABP Majha and many more…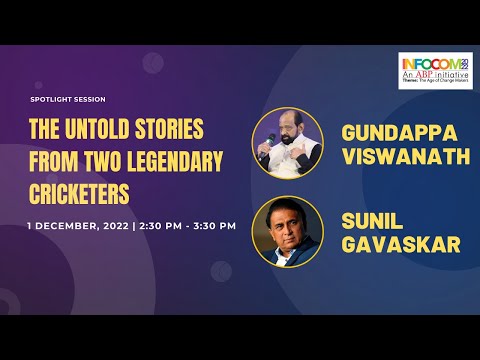 speakers @ INFOCOM CALCUTTA 2023
Sadhguru
Yogi, Mystic and Visionary
Sunil Gavaskar
The Legendary Cricketer
Devdutt Pattanaik
Mythologist
Author & Illustrator
Sunil Gupta
Co-Founder & CEO
Yotta Infrastructure
Jagdish Mahapatra
Vice President - Asia
CrowdStrike 
Nitin Varma
Managing Director India & SAARC
CrowdStrike
Nupur Sharma
Director Marketing
CrowdStrike
Amitabh Ray
MD
Ericsson Global Services India
Anil Valluri
MD & Regional Vice President
Palo Alto Networks
Bhaskar Pramanik
Ex-Chairman
Microsoft & Director SBI
Sharad Sanghi
MD
NTT India & EVP- Data Centre & Marine Cable, NTT Global
Aparup Sengupta
Founder & Chairman
AAJ Global Foundation
Shailender Kumar
MD
Oracle India Pvt Ltd
Vishal Dhupar
MD Asia South
NVIDIA
Diwakar Dayal
MD
SentinelOne
KP Unnikrishnan
VP-Marketing
Asia Pacific & Japan-Palo Alto Networks
Kulmeet Bawa
President & MD
SAP India Sub Continent
Nikesh Arora
Chairman
Palo Alto Networks
Rajesh Rege
President
Honeywell India
Kritika Murugesan
Senior Director, 10,000 startups and Products
NASSCOM
Meetali Sharma
Head – Risk, Compliance & Information Security
SDG Corporation (SDG Software India Pvt. Ltd)
Rajesh Ranjan
Partner & Global Head, Business Process Services
Everest Group
Anuj Tewari
Chief Information Security Officer
TMF Group
Bimal Kumar Patwari
CEO
Pinnacle Infotech Solutions
Debabrata Das
Director
IIIT Bangalore
Suresh Vijayaraghavan
Chief Technology Officer
THG Publications Pvt Ltd
V Sendil Kumar
Chief Technology Officer
Shriram Capital Ltd
Prasenjit Roy
Chief Marketing Officer
NTT Ltd India, NTT Global Data Centers & Cloud Infrastructure APAC
Riyaz Ladiwala
President and Head – Technology and Operations
Nuvama Wealth
Jimmy Tangree
Head – 91.9 Friends FM
AOPL
Kiran Karnik
Author, Columnist, and former President
NASSCOM
Sarbani Bhatia
Senior Vice President , IT
Jagran Prakashan Ltd.
A Shiju Rawther
Head – Information Technology
SBI Mutual Fund
Kaushik Bhattacharya
CEO & Co-founder
Ranjhiya Digital
Sudipta Sen
President
TCG Digital Solutions Pvt Ltd
Sankarson Banerjee
Ex CIO
RBL Bank
Soubhanick Routh
Regional Head – Business Solutions
Tata Communications Limited
V V Rajasekhar
CIO
ITC Limited
Ijazul Haque
Chief Information Technology Officer (CITO)
Commercial Bank of Ceylon PLC Bangladesh Operations
Anant Bhat
Head of XDR Delivery
Cybalt
Raghavendra (Raghu) Rao
Senior Marketing + Communications Professional
Accenture
Xavier Kurian
Director Solutions & Alliances
Dell India Private Limited
Shri Burra Vamsi Rama Mohan
Chief General Manager (Telecom),
Power Grid Corporation of India
Debasis Ghosh
MD & CEO
Data Consultants Corporation (DCC Services Pvt.Ltd)
Jay Chawda
Head of Engineering
PhonePe Pvt Ltd
Sanjay Kumar Das
Joint Secretary
Department of Information Technology & Electronics & State Information Security Officer, West Bengal.
Abhijit Chatterjee
Director Information Technology
TCG Lifesciences
Abhijit Guha
Founder and Global Chairman
Data Consultants Corporation (DCC Services Pvt.Ltd)
Prateek Bhajanka
Technology Strategist
Samrat Banerjee
Senior Vice President & CIO
Emami Limited
Sanjay Prasad
CIO
CESC Power Group
Janardhan Santhanam
VP & CLO/Global Head – Talent Development
Tata Consultancy Services
Dr Naveen Das
Vice Chancellor
Adamas University
Dr Prasad Meduri
MD
Odgers Berndtson India
Ambarish Dasgupta
Senior Partner
Intueri Consulting Llp
Arvind Kumar
Director General
STPI
Harish Agarwal
Managing partner for Kolkata and Bangladesh offices
EY
Vimal Kaw
Head of Product, Datacenter
NTT Global Data Centers and Cloud Infrastructure
Debasish Roy
Vice Presiden - IT
CESC Power Group
Nirupam Chaudhuri
Director
NASSCOM
Abir Banerjee
National Business Manager , HPE Aruba
Hewlett Packard Enterprise (HPE)
Bakshish Dutta
Country Manager
India SAARC, Druva
Ranganath Sadasiva
Chief Technology Officer – Hybrid IT
HPE India
Sarajit Jha
Chief Business Transformation & Digital Solutions
Tata Steel
Himanshu Dubey
Sr. Director, Engineering
Quick Heal Technologies Ltd.
Nirupam Sen
Regional Head
BSI
Sushobhan Mukherjee
CEO & Co-Founder
Prime Infoserv Llp
Tashi Gyanee
Privacy & Data Protection practice
Khaitan & Co
Dr. Samit Ray
The Chancellor
Adamas University
Nihar chakraborty
Executive VP & COO : SAARC Region
Sify Technologies Limited
Sanjay Purohit
CEO
Sapphire Foods India
Mr. S. Radhakrishnan
President, Salt Lake Sector V Stakeholders' Association
Infinity Group
View All
Q&A Session

Panel | New Waves of Attrition- Understanding The .....

Azeem Banatwalla | Stand-up Comedy.....

Workshop | Brand Building for Startups.....

Panel | Catch the Hacker.....

Panel | Win Customer as a Start Up Provider.....

Power Panel | Building a Successful Organization -.....

Raosaheb Kangane & Samit Roy | Opening Address .....

Nikesh Arora | Scaling & Transforming Organization.....

Ranganath Sadasiva | Fast Forward Digital Transfor.....

Amitabh Ray | The Age of Change Makers- Redefining.....

Fireside Chat | Building Loyalty with Experience.....

Devdutt Pattanaik | Surviving in the Middle of Two.....

Sunil Gupta | Run Digital Transformation at the Co.....

Firhad Hakim | Smart Cities, Bringing Fundamental .....

Kritika M | Startup Forum.....

Panel | Connecting Automation to Business Challeng.....

Diwakar Dayal | Cyber & The changing Face of Moder.....

Aroop Biswas | Reforms in Power Sector.....

Harjit Khanduja | Identifying Opportunity in a Res.....

Prasenjit Roy | Driving Beyond the Bottom Line.....

Sandeep Sengupta | The future of Cyber Crime, Priv.....

Gautam Ray | Fostering Employee Wellbeing and Avoi.....

S Radhakrishnan | Growth of Sector V.....

STPI Award Session

Leadership Keynote | The new Age Unicorns, What it.....

Power Panel | Eat Clean, Burn it Right-Mantra to H.....

Panel | Aligning the Organisation with Customer Ce.....

Fireside Chat | Building Leaders of Tomorrow.....

INAUGURATION OF THE CONFERENCE.....

Spotlight Session | Building of a Nation.....

Efficiency and Sustainability in Data Centre Desig.....

Panel | Driving Outcomes in the Global Knowledge E.....

Shailender Kumar | Advancing Digital Innovation fo.....

Kiran Karnik | Decisive Decade –India 2030.....

Himangshu Dubey | Cyber Intelligence: Driving NexG.....

Sunil Gavaskar & Gundappa Viswanath | The Untold S.....
View All
SPONSORS @ INFOCOM CALCUTTA 2022